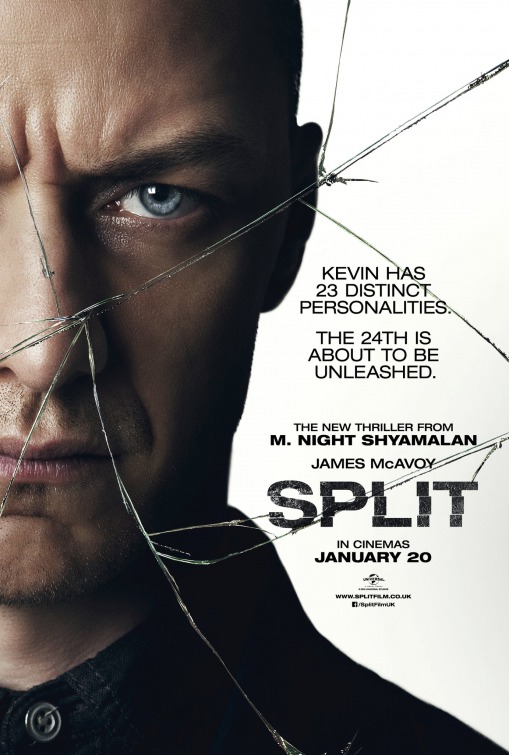 *** This review contains spoilers ***
Three girls are kidnapped by a man and must try and escape before a frightful personality The Beast comes to get them.
With hints Red Dragon (2002) and echoes of Sybil (1976/2007) with a touch of 10 Cloverfield Lane (2016) director, writer M. Night Shyamalan offers an interesting thriller. James McAvoy delivers a performance of a life time as Kevin who has 23 distinct personalities and one additional one, that all play off against each other, even imitating each other at one point. After kidnapping three girls and keeping them locked up in a cellar, surprisingly it is the edgy visits to his therapist, Dr. Karen Fletcher, wonderfully played by Betty Buckley that provides the most tension as you never know when he is going to snap.
The slow undercurrent build up is Split's strength as the girls attempt to escape and we get to know many of Kevin's personas, Dennis / Patricia / Hedwig / The Beast / Kevin Wendell Crumb / Barry / Orwell / Jade. While McAvoy's 9 year old doesn't ring as true as the other characters he encompasses, the distinction between each is impressive. Especially the 24th personality which builds up like a High Noon (1952) showdown. Anya Taylor-Joy's Casey Cooke has a developed character and poignant story arc but always feel second to McAvoy.
The worn on location feel works, a cellar, long corridors, city apartments and a zoo, Shyamalan's realistic setting has become a staple of his work, which helps draw you into the story. Two of the kidnapped girls feel under developed but possibly Shyamalan purposely does this for the viewer to focus on the third and in bid for you to sympathise with her and Kevin.
With a Bruce Willis cameo, the post story twist of sorts will be lost on anyone who hasn't seen one particular film of Shyamalan. And to be honest unless you love this particular film or have a great memory, it will probably annoy rather than entice. That said, all that comes before draws the viewer in. Right down to Dr. Fletcher's assessment of what advantage split personalities can have and its application. Fletcher concludes that 'they' may something more.
Although a mash-up of other films, thanks to McAvoy and Buckley it stands out from most in the genre. Shyamalan's atmosphere and attention to detail gives it some gravitas. Overall, worth watching for McAvoy's performance(s) alone.